Lyme Disease Striking More Americans in More States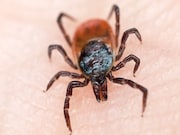 TUESDAY, July 31, 2018 — There's been a sharp spike in Lyme disease cases in the United States, and the tick-borne illness has now spread to all 50 states, a new report shows.
"Lyme disease is a bigger risk to more people in the United States than ever before," said Dr. Harvey Kaufman, senior medical director for Quest Diagnostics, which conducted the study.
"Our data show that positive results for Lyme are both increasing in number and occurring in geographic areas not historically associated with the disease," Kaufman said in a company news release.
"We hypothesize that these significant rates of increase may reinforce other research suggesting changing climate conditions that allow ticks to live longer and in more regions may factor into disease risk," he added.
The researchers analyzed data from more than 6 million laboratory tests conducted in the United States over the past seven years, and they found a significant increase in positive tests between 2016 and 2017.
In the past, Lyme disease was concentrated in the New England states and Pennsylvania, but it has now been detected in every state and the District of Columbia.
The largest recent increases in positive tests for Lyme were in California and Florida, states that have not previously had significant rates of the disease. California had 483 positive tests in 2017, a 195 percent increase from 2015. Meanwhile, Florida had 501 positive tests in 2017, a 77 percent increase from 2015.
Other states with notable increases included Arizona, Georgia, Ohio, Tennessee, Texas and Virginia.
The Northeast still had the highest number of Lyme disease cases. Combined, Connecticut, Maine, Massachusetts, New Hampshire, Pennsylvania, Rhode Island and Vermont accounted for 61 percent of all positive Lyme disease test results in 2017, according to the study released July 31.
Pennsylvania had 10,001 positive Lyme disease tests in 2017, the highest of any state and nearly as many as all the New England states combined (11,549).
There are more than 300,000 cases of Lyme disease in the United States each year, according to the U.S. Centers for Disease Control and Prevention.
Typical symptoms include fever, headache, fatigue and a characteristic "bulls-eye" skin rash. If left untreated, infection can spread to joints, the heart, and the nervous system, according to the CDC.
Most cases can be treated with a few weeks of antibiotics.
To prevent infection, use insect repellent and remove ticks promptly. Also, apply pesticides to reduce the tick habitat, according to the agency.
More information
The U.S. Centers for Disease Control and Prevention has more on Lyme disease.
Posted: July 2018
Source: Read Full Article