You Have 11 Seconds to Tell Your Doc What's Wrong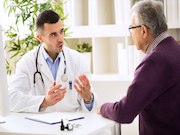 WEDNESDAY, July 25, 2018 — Eleven seconds.
That's how long you typically have to tell your doctor what's wrong with you before he or she interrupts you and possibly sidetracks the conversation, a new study shows.
"These findings are obviously concerning. We would like our physicians to listen for more than 11 seconds," said study author Dr. Naykky Singh Ospina. She's an assistant professor of endocrinology at the University of Florida.
That's just one thing her team discovered: The researchers also found that doctors were able to find out the patient's primary reason for the visit only about one-third of the time.
The study authors noted that the medical interview is one of the key components of medicine. It helps to build a good doctor-patient relationship.
Although the study didn't delve into the specific reasons for the interruptions or lack of finding out a patient's agenda, the researchers said there are a number of factors that could play a role.
These include time constraints and physician burnout, because today's physicians also have to navigate complicated and time-consuming health insurance issues. And for doctors trained before 2004, when physician training underwent a significant shift, a limited education in patient communication skills may also be a factor.
In the study, the researchers analyzed information from a random sample of 112 doctor-patient encounters from a study of 700 doctor-patient visits. The original study was done to test how well shared decision-making tools for treatments for chronic conditions worked. The patients visited doctors in Minnesota and Wisconsin.
Sixty-one visits were with primary care doctors and 51 were with specialists. Forty-five doctors were female senior clinicians. Sixty-four patients were female.
The average visit lasted 30 minutes, the findings showed. The patient's agenda was only identified in 36 percent of the visits. When the patient agenda was identified, the average visit lasted 35 minutes.
Primary care docs seemed to best specialty care physicians by a wide margin — nearly half of primary care doctors found out the main reasons patients were visiting. But only 20 percent of specialty care doctors did so. However, Singh Ospina said because the study sample was small, this difference didn't reach statistical significance.
She also pointed out that when you go to a specialist, you often go with a referral for a specific condition. For example if you go to an endocrinologist, you likely have gone with a referral for diabetes treatment, so the doctor already knows the main reason for your appointment.
Dr. Aaron Bernard, director of clinical arts and science at the Netter School of Medicine at Quinnipiac University in Connecticut, said the new findings are in line with previous research.
"Physicians could be more open-ended in their questioning and let patients share their concerns. This study highlights the need for continued education of students and for practicing physicians. Performing tasks such as active listening are to everyone's benefit," he said.
Bernard said he hopes newer doctors are better at communicating well with patients. Since 2004, there has been a clinical skills exam portion in the battery of tests that doctors must pass to get their medical license. This has led medical schools to invest more in clinical skills education, he explained.
Patients should have a sense of the most important things they want to address before they go to the doctor, Bernard suggested. Most doctors will start with an open-ended question such as, "What brings you here today?" he said. "Take advantage of that opening. Don't hold back."
Bernard pointed out that it's usually to the physician's advantage to listen more up front. "Force yourself to wait for the information. If you don't get all the information from the patient up front, you may find yourself constantly going back into the room to play catch up," which wastes everybody's time.
Singh Ospina said she hopes physicians will use the findings to re-evaluate their patient communications.
"Many doctors will think this isn't true for them. But maybe they'll stop and pay attention for a day or two to see if they are talking more to the patient and not allowing them to speak," she said. "We commonly don't ask what a patient's main concern is, and if we don't know there's a problem, we can't fix it."
The study was published online recently in the Journal of General Internal Medicine.
More information
Learn more about improving your doctor visits with this advice from Harvard Medical School.
Posted: July 2018
Source: Read Full Article