One Reason Why Kidney Transplants Fail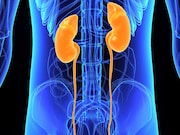 WEDNESDAY, Aug. 15, 2018 — Scottish scientists say they've found new clues to why some kidney transplants fail.
It has to do with the amount of "wear and tear" a transplanted kidney has and how that affects its work in the recipient, the new study says.
It was known that the age of the donor could affect how well a transplanted kidney worked, but this is the first time that the "burden of lifestyle and life events" experienced by the donor has been introduced as having an impact, according to the researchers.
They studied kidneys that failed to work after transplant, resulting in either the loss of the kidney or recipients having to go on dialysis until the new kidney started working.
The kidneys had significant changes in key genes and evidence of aging that was consistent with higher levels of "wear and tear," according to the study authors.
"We now have strong evidence that an organ's biological age, in combination with physiological stress, plays a major role in … impaired function, occurring. The findings also suggest that these effects are driven by donor characteristics, which may be more of a factor than transplant stress itself," said researcher Paul Shiels, of the Institute of Cancer Sciences at the University of Glasgow.
"Our findings are important because, not only have we identified the reason why some kidney transplants don't work when transplanted, we also demonstrate that miles on the biological clock affect the physiological function of organs," he said in a university news release.
"This isn't just clinically important, but is also relevant to how we age and how we can maintain good health in old age," Shiels said.
"By using the signature set of genes from this study to identify less resilient organs before they meet a new recipient immune system, transplant stress could be reduced and outcomes improved," he concluded.
About 10 to 12 percent of adults worldwide have chronic kidney disease, which can lead to kidney failure and the need for either dialysis or a kidney transplant.
The study was published Aug. 13 in the journal Aging Cell.
More information
The National Kidney Foundation has more on kidney transplants.
Posted: August 2018
Source: Read Full Article