Empowering Women's Health: Exploring the Latest Innovations in Wearable Technology
Menstrual health monitoring
Management of menstrual pain
Fertility tracking
Pregnancy monitoring
Breast health
Postpartum care
References
Further reading
---
Empowering women's health globally is vital to ensuring individuals' well-being and benefits society as a whole. Across the globe, women face inequalities in healthcare. Disparities excess in access to and quality of healthcare provided, marginalized groups of women suffer the worst from gender disparities in healthcare, which often leads to delayed diagnoses and poorer health outcomes. Maternal mortality and limited access to reproductive healthcare represent other significant challenges in women's health that affect all women, regardless of socioeconomic status.
In recent years, scientists have begun leveraging advancements in wearable technology to develop novel applications for women's healthcare. Such applications may help to address some of the current challenges that women around the world face in accessing quality healthcare. This technology will help empower women's health by enabling them to make informed choices, gain access to the healthcare services they require, have control over their bodies, and overcome some of the inequality they currently face.
Here, we give an overview of some of the latest innovations in wearable technology that may facilitate empowerment in women's health going forward.
Menstrual health monitoring
In recent years, many wearable devices have entered the market designed to track menstrual cycles. This technology enables women (and, in some cases, their partners) to understand better their menstrual cycle and how it is unique to them. Such wearables can predict ovulation (which assists with family planning) and monitor other menstrual cycle factors, such as the length of the follicular and luteal phase. These apps can also flag abnormalities in the menstrual cycle that may indicate other health conditions.
Wearables in this field include the Oura Ring, which, commonly known as a sleep fitness tracker, can also monitor menstrual cycles. It uses data collected on body temperature to predict the day the menstrual cycle will begin each month.
Numerous smartwatches can also track and give predictions and insights on a user's menstrual cycle. Fitbit and Garmin, for example, offer users the opportunity to log menstrual cycle data – providing insights on their individual menstrual cycle in return.
Management of menstrual pain
New technology has recently been launched for the management of menstrual pain. The wearable uses transcutaneous electrical nerve stimulation (TENS) technology and was developed by the UK company Myoovi. It is a drug-free alternative to managing painful menstruation cramps that is FDA-approved and CE-marked.
Theoretically, according to the gating theory of pain, TENS produces electrical signals that interfere with and block the pain signals that attempt to reach the brain. These signals are how we perceive pain; we feel less pain by disrupting and blocking them.
Fertility tracking
According to the World Health Organization (WHO), as many as 1 in 5 American women (aged 15-49) cannot get pregnant after one year of trying. There is a significant need for technology that can help couples understand fertility to improve the chance of conception.
The Ava bracelet aims to assist women in tracking their fertility. The technology collects and analyzes many data, including nighttime skin temperature, heat rate variability ratio, resting pulse rate, and more, to accurately predict a woman's fertile window.
'Fitbit For Fertility' Ava Could Help Women Get Pregnant Faster | CNBC
Tempdrop is a wearable that works similarly – it tracks the body's temperature non-invasively to make predictions about a woman's fertile window.
Pregnancy monitoring
In 2015, US-based wellness company Bellabeat launched Shell, a wearable that can track the baby's heart rate by capturing sounds from the womb and using an algorithm to remove noise and amplify them. While this innovation is currently not recommended for use as a medical device, it opens the door to future technologies that can safely track various factors contributing to mother and baby health during pregnancy.
Breast health
Recent statistics estimate that as many as 1 in seven women will get breast cancer in their lifetime. As with most cancers, early detection is key to better prognoses. The earlier the disease is identified, the more likely it will be at an earlier stage when therapy is more effective in clearing it from the body.
Researchers at Massachusetts Institute of Technology (MIT) announced the development of a new device. This wearable ultrasound scanner could be incorporated into a bra to detect breast cancer early on. The device, which is yet to become available outside of the lab, is a flexible patch that can be moved to scan the breast at different angles, obtaining ultrasound images to a resolution comparable to that obtained in medical centers. The innovation will likely be targeted at women who are at a greater risk of breast cancer in the hopes that it will detect tumors in their early stages before self-checks may have caught them.
Postpartum care
Research is underway to develop wearable devices for new mothers to help identify those at the most risk of postpartum depression. Scientists believe that passive sensing data can determine who will most benefit from psychological services postpartum. Pilot tests have already been conducted to demonstrate the potential for such a postpartum wearable device. In the near future, we may see a novel device enter the market for postpartum care.
References
Anne Trafton. (2023). A wearable ultrasound scanner could detect breast cancer earlier [online]. MIT News. Available at: https://news.mit.edu/2023/wearable-ultrasound-scanner-breast-cancer-0728 (Accessed September 2023)
Kitti Palmai. (2023). The new tech offering relief from the misery of period pain [online]. BBC News. Available at: https://www.bbc.co.uk/news/business-64397795# (Accessed September 2023)
Sophie Charara. (2016). Bellabeat Shell can hear your unborn baby's heartbeat [online]. Wearable. Available at: https://www.wareable.com/health-and-wellbeing/bellabeat-shell-price-specs-release-date-555 (Accessed September 2023)
Further Reading
All Women's Health Content
HIV, AIDS and Women's Health
The Global Health Problem of Violence Against Women
The Role of Testosterone in Women's Health
The FemTech Revolution: how technology is empowering Women's health and wellness
Last Updated: Sep 12, 2023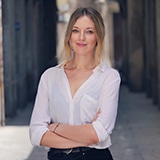 Written by
Sarah Moore
After studying Psychology and then Neuroscience, Sarah quickly found her enjoyment for researching and writing research papers; turning to a passion to connect ideas with people through writing.