7 Women Share The Most OMG-Worthy Rebound Sex They've Ever Had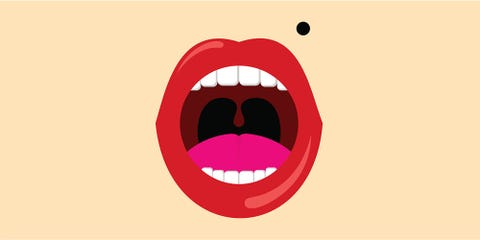 You know that feeling post-breakup when your sex drive is suddenly out of control? (Just me? Not sorry.) It's like letting go of all that toxic energy awakens a sexual goddess inside of you—and she's ready to pounce.
Then there's that saying: The best way to get over someone is to get under someone new. I'm not saying that's necessarily a good idea, but hey, it could be fun. Just take it from these women.
'I hooked up with someone 10 years younger.'
"My hottest rebound, without a doubt, was with a 23-year-old after I got divorced at age 33. We did everything I ever fantasized about. He was gorgeous, fun, and exactly what I needed to remind myself I was still me beyond the wife and mother titles I carried for 10 years." —Liza, 33
'He went down on me for an hour.'
"My college boyfriend broke up with me when I was a freshman because he 'couldn't commit'—even though he pressured me into the relationship and introduced me to his mother on our third date.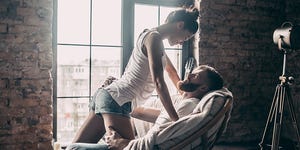 "As I left his apartment and closed the door, my f-buddy who I kept on retainer, texted me and we hooked up no less than an hour after I got dumped (and he ate me out for like an hour! Thank the lord cuz my ex refused to…asshole).
"Then the next morning my ex showed up outside my apartment and begged to get back together. I think not!" —Nina, 24
"I hooked up with my new co-worker."
"It happened after I moved to a new city for a fresh start. After flirting with my job supervisor for a couple weeks, we went to dinner. By the time we got back to his car we were all over each other.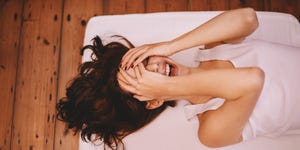 "My dad was still at my apartment after helping me move, so we had to sneak in. Once we finally made it to the bed it was mind-blowing! Knowing my ex was in the D league sexually definitely helped me get over him." — Kelly, 38
'I had a hot hookup on my train home.'
"I actually hooked up with my high school sweetheart in the days right after my divorce. He and I were on the same train together (traveling toward what had been our mutual hometown growing up) and ended up hooking up in the Amtrak quiet car! To be honest, it gave me a little bit of a train fetish even to this day." —Stefani, 39
'We had sex all night long…literally.'
"After finally ending a toxic and abusive relationship, I invited a sweet co-worker out to dinner knowing we had always enjoyed harmlessly flirting. After a few drinks, I told him I was single, and we ended up naked in my bed, completely uninhibited and having sex on and off until the sun came up. I will never forget the relief I felt, and how his face looked while he went down on me and held eye contact." —Esther*, 29
'It went down in a movie theater…'
"When I was 45, I hooked up with a beautiful 29-year-old. On our first date we went to the movies and he gave me an orgasm in the theater! We saw each other a few more times before we petered out. We are still friends." —Providence, 51
'I had the best sex of my life.'
After my long-term relationship ended, I wasn't sure what to do. I wasn't feeling particularly sexual. I started talking to this one guy from my past. We decided to have a sex date. I was nervous, but when I got there, everything just felt so easy. We wound up having some of the best sex of my life. He wanted to make it a regular thing, but I just needed that one night to know there were other things out there for me." —Julie*, 28
Gigi Engle is a certified sex coach, educator, and writer living in Chicago. Follow her on Instagram and Twitter at @GigiEngle.
Source: Read Full Article