New Ebola Outbreak in Congo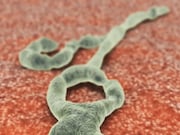 THURSDAY, Aug. 2, 2018 — Just a week after being declared Ebola-free, the Democratic Republic of Congo said yesterday that a new outbreak of the deadly virus has killed at least 20 people.
Authorities in North Kivu Province notified the country's Health Ministry on Aug. 1 of 26 suspected cases of Ebola, including the 20 deaths, Health Minister Oly Ilunga Kalenga, M.D., Ph.D., said in a statement, The New York Times reported.
Samples from the six survivors were tested this week, and four were positive for Ebola.
This is the 10th time since 1976 that Ebola has threatened the Democratic Republic of Congo, The Times reported. The previous outbreak lasted a few months and killed at least 33 people. It was declared over on July 24.
The New York Times Article
More Information
Posted: August 2018
Source: Read Full Article