Children and COVID-19: US Sees Almost 1 Million New Cases
Editor's note: Find the latest COVID-19 news and guidance in Medscape's Coronavirus Resource Center.
Another record week for COVID-19 brought almost 1 million new cases to the children of the United States, according to new data from the American Academy of Pediatrics and the Children's Hospital Association.
The pre-Omicron high for new cases in a week — 252,000 during the Delta surge of the late summer and early fall — has been surpassed each of the last 3 weeks and now stands at 981,000 (Jan. 7-13), according to the AAP/CHA weekly COVID-19 report. Over the 3-week stretch from Dec. 17 to Jan. 13, weekly cases increased by 394%.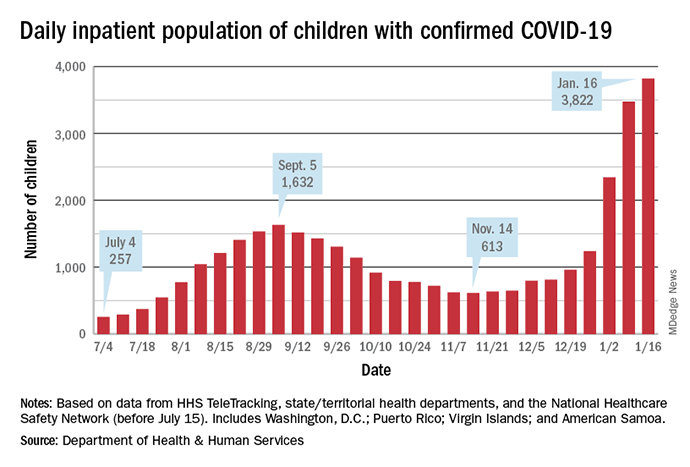 Hospitalizations also climbed to new heights, as daily admissions reached 1.23 per 100,000 children on Jan. 14, an increase of 547% since Nov. 30, when the rate was 0.19 per 100,000. Before Omicron, the highest rate for children was 0.47 per 100,000, based on data from the Centers for Disease Control and Prevention.
The inpatient population count, meanwhile, has followed suit. On Jan. 16, there were 3,822 children hospitalized in pediatric inpatient beds with laboratory-confirmed COVID-19, which is 523% higher than the 613 children who were hospitalized on Nov. 14, according to the Department of Health & Human Services. In the last week, though, the population was up by just 10%.
The one thing that has not surged in the last few weeks is vaccination. Among children aged 5-11 years, the weekly count of those who have received at least one dose dropped by 34% over the last 5 weeks, falling from 527,000 for Dec.11-17 to 347,000 during Jan. 8-14, the CDC said on the COVID Data Tracker, which also noted that just 18.4% of this age group is fully vaccinated.
The situation was reversed in children aged 12-15, who were up by 36% over that same time, but their numbers were much smaller: 78,000 for the week of Dec. 11-17 and 106,000 for Jan. 8-14. Those aged 16-17 were up by just 4% over that 5-week span, the CDC data show.
Over the course of the entire pandemic, almost 9.5 million cases of COVID-19 in children have been reported, and children represent 17.8% of all cases reported in 49 states (excluding New York but including New York City), the District of Columbia, Puerto Rico, and Guam, the AAP and CHA said in their report.
Three states (Alabama, Nebraska, and Texas) stopped public reporting over the summer, but many states count individuals up to age 19 as children, and others (South Carolina, Tennessee, and West Virginia) go up to age 20, the AAP and CHA noted. The CDC, by comparison, puts the number of cases for those aged 0-17 at 8.3 million, but that estimate is based on only 51 million of the nearly 67 million U.S. cases as of Jan. 18.
This article originally appeared on MDedge.com, part of the Medscape Professional Network.
Source: Read Full Article